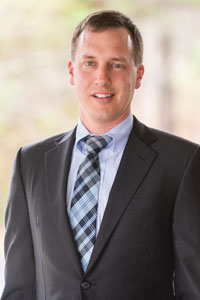 Welcome Levi D. Kauffman, MD
Dr. Kauffman joined our practice in August 2019. Dr. Kauffman grew up in Castle Rock, Colorado. He attended Baylor University and was active in the Baptist Student Ministry, where he met his wife Mandy. He majored in aviation sciences, earning his private and commercial pilot licenses. After graduation, he worked for the Baylor Institute for Air Science as a research assistant and pilot before moving to Houston, Texas to work for the NASA Space Shuttle and International Space Station programs as a safety and reliability engineer. During his 5 years working for NASA contractors, he had the opportunity to help develop medical equipment for astronauts, and through this developed an interest in medicine. He attended Baylor College of Medicine where he discovered a passion for ophthalmology. After completing an intern year in internal medicine at Wake Forest Baptist Health, he completed his surgical residency at the Wake Forest Eye Center, serving as Chief Resident during his final year.
When he is not working, Levi enjoys woodworking and spending time with his wife and 3 children.
A Different Kind of Eyecare
The Ophthalmologists at Medicus Eye Group: Dr. Mark Wolken, Dr. Reid Murphy, and Dr. Edward Mattison are Board Certified and practice comprehensive ophthalmology. Dr. Levi Kauffman, MD joined our practice as of August 2019, also specializing in comprehensive ophthalmology. Our board-certified optometrists Dr. Shelly E. Lomax and Dr. Vaughn Parfitt, work closely with the rest of the team, providing patients in the Anderson, SC area with comprehensive eye health exams, glasses, and specialized contact lens fittings. As a practice, we strive to be leaders in the field of Ophthalmology and continue to evaluate all new technology to provide the best possible eye care for our patients.
The Medicus Eye Group, located in Anderson, SC offers an extensive array of services ranging from basic eye exams for glasses, contact lenses, and laser vision correction, to laser and surgical treatment of diseases including cataracts, glaucoma, macular degeneration, diabetes, and facial plastic surgery. All surgery is performed at the AnMedHealth Medicus Surgery Center adjacent to our office on an outpatient basis.
We hope that this web site will help you to learn more about the services and procedures available at the Medicus Eye Group and will help answer questions you may have about your eye health.